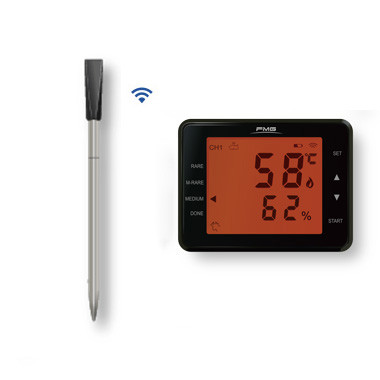 Wireless BBQ Probe with Monitor is the World's first  wireless BBQ probe of World first which is made in  a unique microelectronics and precision manufacturing technology, and especially suitable for closed electric ovens and ovens. it barbecue perfect meat by measuring both food and stove temperature via bluetooth for iOS and Android,which will replace traditional barbecue thermometers.
Features
■ Include receiver/wireless probes/charger;
■ Working mode:timer / recipe / target temperature;
■ LCD display with four touch keys;
■ Receiver monitors barbecue process;
■ Audio and light alert while processing end
Specification
● Food temp range:-40~85℃          
● Oven temp range:0~275℃           
● Radio frequency:2.4Ghz          
● Transfer distance >30meters       
● Charging time:5minutes              
● Working time:>4hours  
Application
◆Barbecue, cooking, baking, with the oven, oven and other equipment supporting the usage.
Packing
▲ Color box:130x130x38mm 
▲ Product weight:240g       
▲ Carton size:550x520x250mm          
▲ Qty per carton:62pcs     
▲ Gross weight:16kg