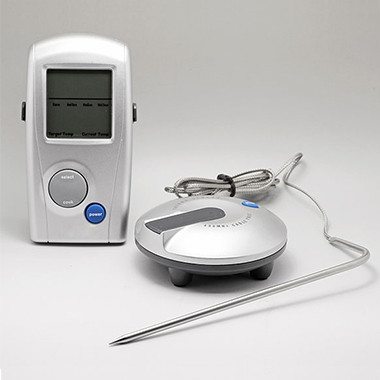 Digital Wireless BBQ meat probe disc Thermometer and monitor for outdoor and indoor BBQ
Model

SH250 Wireless Grill Oven Thermometer
Description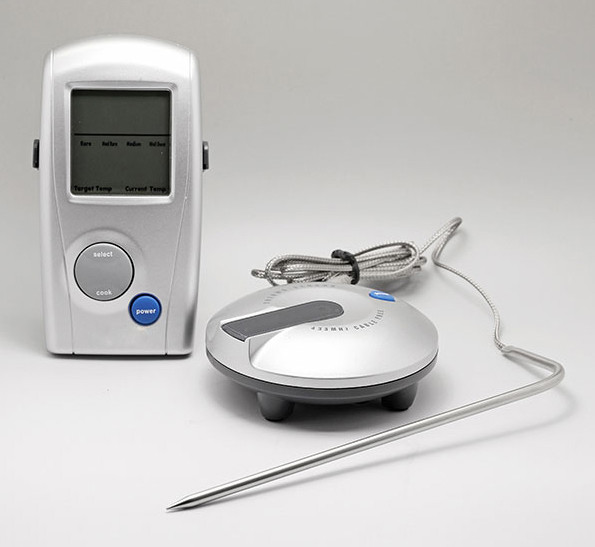 Wireless Grill Oven Thermometer consists of receiver and transmitter which is connected with a single stainless steel BBQ probe and wireless transmits the food temperature data to the receiver. The receiver displays the BBQ temperature and process, and alarm while the end of the BBQ process.
Features
■ Included:receiver/transmitter/one probe;
■ LCDscreen with buttons display temperature;
■ Preset eight types of food and cooked degree;
■ Audioand light alert while processing end
Specification
● Temp measuring range:0~200℃
● Transmissiondistance:30M
● Radio frequency:433Mhz
● Power: 2 AA and 2AAA alkaline batteries
Application
◆BBQ, cooking, baking, BBQ, baking,oven, picnic BBQ, kitchen BBQ cooker, BBQ food.
Packing
▲ Color box:235x190x50mm
▲ Product weight:380g
▲ Carton size :550x480x245mm
▲ Qty per carton:20pcs.
▲ Gross weight:8kg
User manual