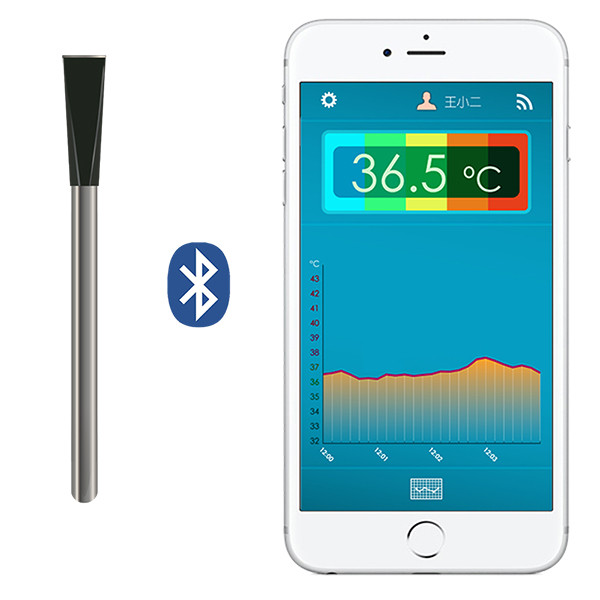 Stainless steel pipe structure, shock - proof, durable,easy to disinfect and clean. It has the functions of temperature measurement,recording and bluetooth communication. It can monitor, download to Excel, analyze temperature measurement and record data by running the "TempView" App of smart phone. It is especially suitable for temperature measurement of pets,animals and livestock.
Features
■ Measuring and recording body temperature;     
■ Smartphone download and display menmory data;       
■ Compatible with BLE 4.0 / Andriod / IOS;         
■ Five minutes charger and operate 72  hours                                                            
Specification
● Temperature measuring range:32~43℃
● Accuracy:±0.1℃                 
● Measuring period:10s/5m          
● Recording capacity:12000B     
● Transmitting distance:10M          
● Product size: D6 xL100mm
Application
◆ Measure and record the temperature of dogs and cats;
◆ Measure and record the temperature of pigs, cattle, sheep,
◆ livestock and animals.
Packing
▲ Color box: 182 x51x22mm       
▲ Product weight: 113g     
▲ Inner box: 260x187x115mm         
▲ Qty per inner box: 25pcs
▲ Cartone size: 387x275x24mm  
▲ Qty per cartone: 100pcs   
▲ Gross weight: 13kg
User manual 

APP Download