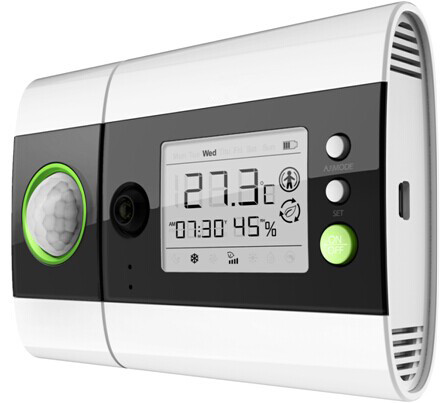 Air Conditioning Power Saver is an energy saving device designed for split air conditioners. It is easy to install, low cost and practical. It is based on the concept of energy conservation,according to a set of scientific control logic, so that the air conditioning not only saves energy and saves money, but also meets people's demand for energy saving, comfort and intelligent control...                
Features
■ Automatically turn off air conditioner when you leave the room ;
■ Beep sound indicates the response of air conditioner;
■ LCDdisplay, digital clock , measure temperature and humidity ;
■ Indications of air conditioner working status;
■ Auto Sleeping Mode  
Specification

● Human body detection range: <10M         
● IR response distance: <5M            
● Power: 2 x 1.5Vdc AAA batteries       
● Product size:126x 82 x 34mm             
Application
◆ Control and reduce electricity consumption of split air conditioners in homes, offices and hotels, saving 30%on electricity charges.
Packing
▲ Color box:163x113x42mm       
▲ Product weight:210g     
▲ Carton size:545x350x370mm          
▲ Qty per cartone: 72pcs   
▲ Gross weight:16kg